Grease Management
Some of the most common problems in pumping stations, sewer networks and wastewater treatment systems are attributed to fats, oils and grease (FOG). FOG in the wastewater sewerage network blocks pipes, restricts flow and gives rise to network overflows and flooding. FOG also contributes to pump and equipment failures and has an inhibiting affect on the biological treatment processess within wastewater treatment systems.
VISIT THE GREASE GUARDIAN WEBSITE WWW.GREASEGUARDIAN.COM                            
Grease Guardian
To counter these problems FM Environmental developed the Grease Guardian range of automatic and manual grease removal equipment. Addressing the problem at source – in the kitchens and food preparation areas – the Grease Guardian traps and automatically removes 98% of free-floating grease and oils ensuring the sewer pipework remains FOG free. The compact, stainless steel unit fits neatly in the kitchen automatically trapping and removing grease on a daily basis.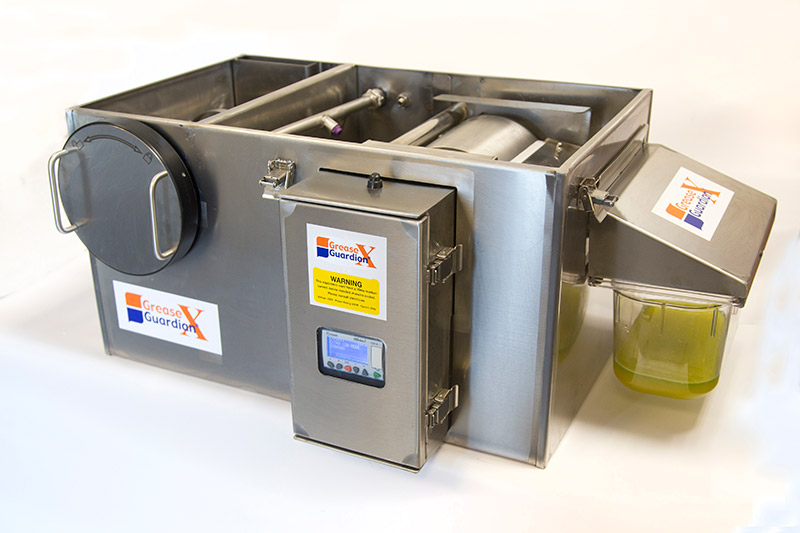 Tested & Approved to international standards 
PDI-G101, ASMEA112.14.3 & 14.4, NSF, IAPMO, CSA, GOST, as well as approved by various city & national codes in Europe, North America, Australia and Asia
Also available
Centralised grease removal units (click here)
Foodwaste strainers (click here)
Coffee waste strainers (Click here)
Marine application grease traps (Click here)
Visit www.greaseguardian.com for more or download our product catalogue below