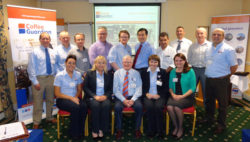 FM Environmental manufacturers the Grease Guardian – the world's leading grease and oils removal system – and provides FOG management solutions to municipalities and businesses around the world. The conference specifically addressed the global need for greater enforcement of FOG control measures particularly in the catering industry and introduced delegates to new technologies developed by FM Environmental over the last two years.
In his keynote address Export Director Eamon Fitzpatrick explained how Dublin City Council had taken the lead on the international stage by addressing its own FOG issue:
"Dublin grasped the nettle and implemented a FOG Management Strategy that, although not perfect, is an example of strong and decisive action at local authority level. Its activities had a major positive impact on the Dublin sewer network and proved to local authorities worldwide that the FOG problem could indeed be solved."
The event coincided with the opening of Grease Guardian USA, FM Environmental's New York office, from where it will now manage its North American operations and support its growing customer base throughout the USA and Canada.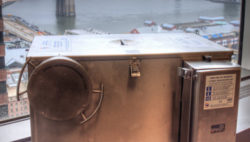 Grease Guardian LLC, part of FM Environmental, has been established to meet the increased demand from the US and Canadian markets for the highly successful GG-X series of Grease Guardians.
Having spent over two years of design, testing and seeking national approvals, the GG-X has revolutionised the way grease is managed using smart technology to suit different menu types, as well as dry basket for food waste interception. The GG-X series also allows for the unit to be installed with less space constraints with its rear located multi-directional inlet and outlet.
With a growing network of distributors throughout many of the States, Des is looking forward with enthusiasm to supoprting and developing each local market and purchasing group.
You can contact Des at des@fmenvironmental.com

Cell number is (001) 914 316 5671
Office (001) 914 375 0902
Monday, 01 September 2014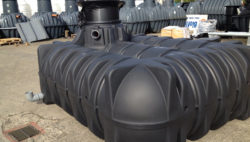 Photo shows Platin 1500L tank, in the background are the 2700litre Carat rainwater harvesting tanks.
The platin system was chosen for this site for the following reasons:
Minimum installation depth means a short installation time and low installation costs
Integrated filter technology thanks to tank filter packages
Can be driven over by cars (when combined with a cast telescope)
Groundwater-stable up to the tank shoulder thanks to extremely stable design
Easy to transport thanks to low weight
Secure investment thanks to 15-year warranty
The Platin rainwater tank can be extended in any way
The 1500 l tank measures just 210 x 120 cm the height to the tank shoulder is just 70 cm. The low tank height allows it to be installed without slope angles and therefore in a very small pit. Since the tank weighs in at just 80 kg, it's easy for two people to complete installation in a morning.
The professional, integrated filter technology is housed directly below the tank cover in the generously sized tank dome. It is based on the proven GRAF module system. The appropriate self-cleaning filter technology is supplied to match the House and Garden packages. It is characterised by its low maintenance requirements and high water yield. In addition, it can be removed without any tools if the tank needs to be inspected.
The attractive tank cover of the Platin flat rainwater tank is also based on the successful Carat module system. It can be telescoped and tilted in a continuously variable manner. Of the entire system, only the discreetly designed tank cover is visible. It also features a child-proof lock and an internal water connection box.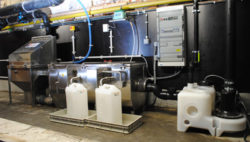 This particular installation regoups the wastewater of all the kitchens of the what is a historically important building with limited options to handle its grease issues.
The Hilton began by looking at management at the source and have significantly reduced the amount of waste food to enter the drainage system. Secondly, the existing grease trap was removed and replaced with the D10 in the basement, which can accept flows of upto 10 litres/second per unit. In all, the D10 including its final effluent pumping station had a footprint of less than 5 comfortable metres.
The flow travels through an first solid waste interception chamber which separates any further waste food particles to greater than 3mm and then 1mm solids. These waste solids are then emptied by a built-in tilt basket to a waste collection drum for disposal.
The oil laden wastewaters then pass into the main body of the D10 Grease Guardian, where two stainless steel drums skim and recover the waste oils into oil recovery drums, ready for recycling. Throughout any given 24 hour period, the highly efficient D10 will only have 2-3 cycles of skimming, supplemented by aeration.
The treated kitchen wastewaters were then returned to main drainage by means of dual pump installation
Belgian Grease Guardian distributor GO4SOS provided the Hilton with a complete turnkey package of survey, demolition of the existing grease trap, installation, commissioning, servicing and removal of the recovered waste products. GO4SOS can also provide the standard range of at-source undersink Grease Guardians, coffee grind filters, food waste filters and sink filters.
For advice about your requirements whether for a small restaurant or a large hotel,
contact David Devaux of Go4SOS at 0032 485 06 70 29 or
david.devaux@go4sos.com (greaseguardian.be).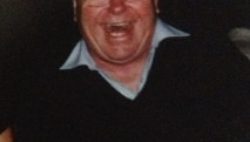 For those of us who knew Colin he will be remembered as a warm, witty and loveable character who was never short of a puzzle, a joke or a bawdy Limerick.
He was old school as far as engineering went, happy to sketch an idea 'if words failed' and engineer inventive, if sometimes ambitious solutions, to whatever problem was thrown at him. The 'Colly Special' entered FM vocabulary describing a bold, if oftentimes unusual, design exercise by Colin, such as tandem pumping or the Spillarrest, that helped define the companys solution orientated reputation. He relished the challenge, and dared to think unconventionally.
As with all great innovators, never did he ever take criticism to heart or hold a grudge. In fact, in all the time working with Colin, one would never once hear him utter a bad word or derogatory comment about anyone even on those occasions when he would be forgiven for doing so. An admirable quality that so often is lacking in this difficult business environment.
It would be fair to say Colin enjoyed the simple things in life. If he has found his heaven then it's undoubtedly sitting on a stool, stewing over a crossword, sipping a pint. But only after six o'clock!
Toodle pip, Colin.