Rathlin Island WTW
/
Tuesday, 07 July 2020
/
Published in
News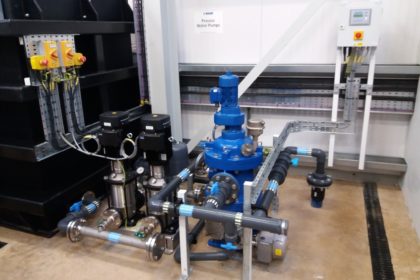 The Rathlin Island Water Treatment Works Project is a joint venture between FM Environmental and Euro Services for Northern Ireland Water.
The main driver for the project has been compliance with the latest DWI Drinking Regulations and an improvement in the potable water on the island.
The Project consisted of using modern treatment technologies in the form of an advance Magnetic Ion Exchange Process unit (MIEX Unit) from US company, IXOM in a fluidised Bed Reactor along with its associated equipment. This is the first time that this innovative technology has been used in Northern Ireland.
New Borewell Pumps, a new Chlorus system and various pumpsets and instruments were installed along with a new MCC and HMI for a fully automated system.
While this was a challenging Project due to the remoteness of the site, the weather conditions added to the difficulties as did limited ferry access. With the Project team of NIW staff, Doran Consulting, FM Environmental, Euro Services and various sub-contractors working along with the local community, the Project achieved its deadlines and targets and the new treatment process has been in service since the end of November 2019.