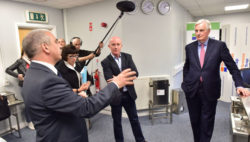 The EU's Chief Negotiator on Brexit, Michel Barnier, visited FM Environmental during his recent visit to Newry. Mr. Barnier, who had earlier addressed a group of business and political leaders at a cross-border event in Dundalk, was on a whistle-stop tour of Ireland to gauge local business reaction to Brexit.
Mr. Barnier was particularly interested in how a firm located on the UK side of the Irish border was preparing for life post-Brexit and the possible implications Brexit would have on the company's operations in the future.
FM Environmental's Export Sales Manager, Michel Fitzpatrick, gave Mr. Barnier a tour of the company's premises in Greenbank, Newry and explained how the Company would continue to trade on both sides of whatever form the Irish border would take.
"Our engineering business has operations both in Northern Ireland and the Republic of Ireland so we will continue to trade irrespective of how hard or soft the eventual border turns out." explained Mr. Fitzpatrick. "Our major export product, the Grease Guardian, is currently produced in another EU member state, Malta, so in that regard it's business as usual."
Mr. Barnier was particularly impressed at how the Grease Guardian automatic grease removal system was finding success internationally and encouraged FM to continue its good work abroad irrespective of what borders or economic barriers it might encounter along the way.