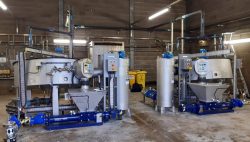 FM Environmental working with Lowry Building & Civil Engineering carried out a major refurbishment of the Sludge Thickener Plant at NI Water's Banbridge Waste Water Treatment Works (WwTW). While it was a challenging project in the tight timeframe the FME site team working closely with the client NI Water and other partners, successfully carried out the project safely and to a high standard of workmanship.
This upgrade represents a major investment in the Sludge Treatment process at Banbridge WWTW and will allow NI Water to efficiently treat the Sludge produced on site and reduce costs when transporting the Sludge from site for many years to come.
The existing Sludge Drum Thickeners had come to the end of their serviceability and reliability and had become very labour intensive and could only treat 1.5 l/sec of Thin Sludge. The new Huber S Disc Thickeners are each capable of treating 6.9 l/sec @1.0% DS.
The Poly dosing system has been upgraded and automated to provide either Liquid Poly or Powder Poly Dosing and has been optimised to provide a Thickened Sludge @ 5.0% DS
OUTLINE SCOPE OF WORKS
1. Replacement of the two existing Drum Thickeners with Huber S Disc Thickeners
2. Upgrade and automation of the Poly Dosing Plant
3. Integrate the new equipment with the existing treatment processes.
4. Upgrade of the lighting to LED energy efficient lighting within the Sludge Plant Room.
The Huber Disc Thickeners have been designed to provide efficient thickening of sludge and the plant will provide reliable automatic operation. With its enclosed design and low speed operation this provides a reduction in odours, noise and airborne spray typically associated with sludge thickening. The Sludge Thickeners both use Final Effluent water to maintain themselves.
– Client NI Water
– Main Contractor Lowry Building and Civil Engineer in partnership with FM Environmental Consultant McAdam
– Design Sub-Contractors Huber Technology, PRONTO/LMP and M&M Fabrication